Time to celebrate in Okehampton!
26th February 2018
We celebrated one year at our Market Street, Okehampton office with an informal gathering for drinks and invited clients and fellow professionals to join us.
We decided to expand in to Okehampton having noticed a need. "Even before we opened we already had instructions from local residents" said Philip Horlock a property solicitor based in the office "We've built a lot of excellent relationships already and we look forward to strengthening these and building on them further in the years to come."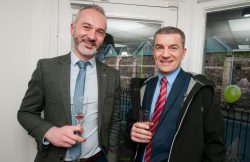 Managing  Partner Terry Bastyan said "the community of Okehampton is unique and very important to us. We offer a free of charge initial assessment meeting (lasting approximately 20 minutes) for anyone with legal questions.  We are very much enjoying being part of Okehampton, it's a busy and vibrant town with a great deal to offer".
Our firm offers advice covering all major areas of law and we are closely associated with Gilbert Stephens Financial Services Limited which is a well-established business offering Independent financial advice.
Find out more about our services on our website and find out how to contact us here