Accreditations
We work hard at retaining the highest standards of client care and practice management and are proud to share our credentials with you.
We have held Lexcel accreditation since 2002, the 2018 annual assessment visit marking 16 years for the firm meeting and exceeding this mark of client care. Lexcel is developed specifically for the legal profession and is an optional, recognised accreditation scheme for law firms and in-house legal departments providing assurance that a practice meets the high client care and business management standards.
To gain and retain Lexcel accreditation, a practice must undergo a rigorous initial then ongoing annual application and assessment process. This includes conducting background checks and an on-site visit from an independent Lexcel assessor.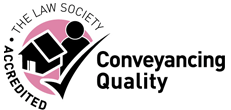 We are members of the Law Society Conveyancing Quality Scheme (CQS) and accreditation provides greater assurance for our clients, both individuals and financial institutions, that they have selected solicitors of the highest quality and competence. This means that following independent assessment it has been confirmed that our clients can be confident that their transaction will be professionally, competently and faultlessly completed.
The scheme requires practices to provide compulsory training, meet self reporting standards and be subject to random audits and annual reviews in order to maintain CQS status. It is open only to members of the Law Society and to those who meet the demanding standards the scheme will set and has the support of the Council of Mortgage Lenders, the Building Societies Association, and the Association of British Insurers.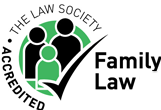 We are members of the Family Law Advanced Accreditation Scheme which covers specialist areas of family law work.
Members need to show, to the satisfaction of the Law Society, that they have and will maintain a high level of knowledge, skills, experience and practice in selected, specialist areas of family law and have demonstrated those skills in two or more areas, comprising:
Children law private
Child abduction and wardship
Cohabitation
Violence in the home
Advice in and conduct of ancillary relief
International issues
Complex asset cases

STEP (the Society of Trust and Estate Practitioner) is the leading worldwide professional body for practitioners in the fields of trusts, estates and related issues. STEP members help families secure their financial future and protect the interests of vulnerable relatives. STEP promotes the highest professional standards through education and ongoing training, leading to widely respected professional qualifications.
STEP Diplomas and Foundation Certificates are widely recognised and its members are highly valued by employer.
All STEP members are subject to an extensive Code of Professional Conduct and Members are required at all times to act with integrity and in a manner that inspires the confidence, respect and trust of both clients and the wider community.
 Full members of STEP are entitled to refer to themselves as Registered Trust & Estate Practitioners and use the designation TEP. Choosing a TEP to advise you means that you can have confidence and peace of mind knowing that the practitioner has reached the exacting standards required.
Many Solicitors incorporate within Wills and within Trust and Settlement Deeds a set of standard executors or trustees powers published by STEP normally referred to as the STEP Standard Provisions. Any properly drafted Will of Settlement needs to contain a large number of specific clauses dealing with routine administration matters and by incorporating the STEP Provisions we can avoid setting those provisions out in full in each documents. Gilbert Stephens have been incorporating the STEP Standard Provisions into Wills, Trusts and Settlements for many years.
Our STEP members
Full Members (Registered Trust & Estate Practitioners)
Affiliates (Student Members)
Our firm is proud to be a member of the SFE (Solicitors for the Elderly), an independent, national organisation of lawyers, such as solicitors, barristers, and chartered legal executives who provide specialist legal advice for older and vulnerable people, their families and carers.
SFE members have experience and specialise in a wide range of legal issues affecting older and vulnerable people.  At the same time they will take into account any difficulties, whether mental and or physical to enhance decision making.
Members will provide home visits where necessary and also provide independent advice, which is in the older or vulnerable client's best interests, respecting dignity and will understand the need for a holistic approach to problem solving. All advice is confidential.
Not just any lawyer can be a member of SFE. Our members must have spent a substantial amount of their time working for older and vulnerable clients and have to fulfil our own criteria for membership. They must also follow our own code of practice. This wealth of experience will hopefully put you at ease when resolving your legal issues. It is important to check that the lawyer you have chosen specialises in the area that concerns you.
Our regulatory bodies
Gilbert Stephens LLP is authorised and regulated by the Solicitors Regulation Authority (no: 536070)