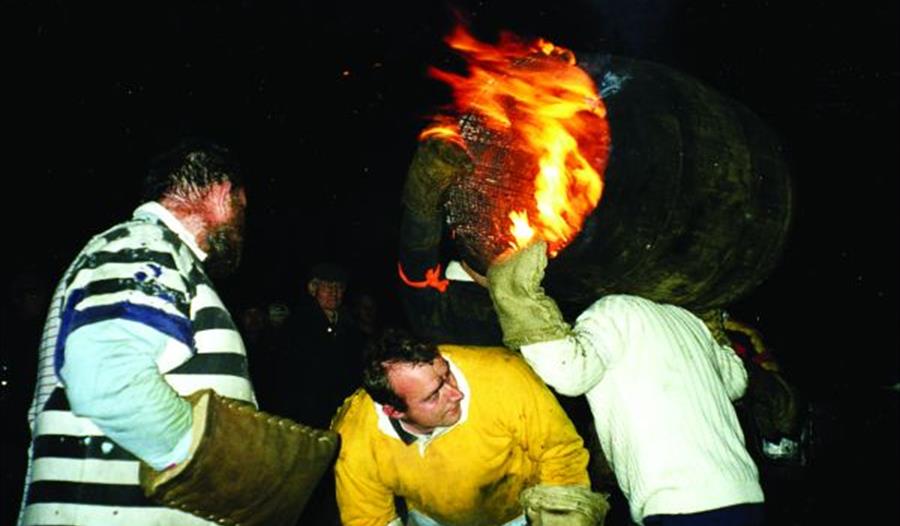 The Flaming Tar Barrels of Ottery St Mary
30th October 2019
Ottery St Mary is internationally renowned for its flaming Tar Barrels event that takes place on Guy Fawkes night, the 5th November, every year. Gilbert Stephens Solicitors will be supporting this ancient Westcountry tradition again this year and if you go along you will see Deanne Cummings from our Sidmouth Office and her daughter Zoe rolling the barrels. It has been in their family for generations and they will be entering their 38th and 19th year respectively.
For reasons lost in antiquity, the seventeen barrels that have been soaked in tar during the months prior, are lit outside each of the public houses and once encased in flames are hoisted up onto local people's backs and shoulders. They then proceed to run through the streets and alleys that are always packed with delighted spectators, keen to be part of the action.
This is such a unique event that attracts spectators from far and wide and keeps Ottery St Mary's great sense of tradition and history alive. It is the only town left that battles to continue to hold this fantastic event every year and the locals are very passionate that it doesn't die out. In addition to the main event one of the biggest bonfires in the South West is ignited on the banks of the River Otter and a huge annual fun fair provides hours of fun for all.
Gilbert Stephens have sponsored the programme, sales of which raise money to enable the tradition to continue, because every year insurance for this event continues to increase.
Deanne will be wearing one of our bright green Gilbert Stephens T-shirts (which we don't expect to be returned!) so hopefully you will be able to spot her amongst the commotion and flames! Gilbert Stephens are very proud of Deanne's achievement and looking forward to the night. She says "this is such a special event for my family but sadly this may be my last year. I have been having problems with my back this year so will have to take care. I must admit if I do stop this, I will really miss it but I know that my daughter and other members of my family will carry this on".
We are sure you will remember the 5th November but put the Tar Barrels in your diary as it is an exciting event you don't want to miss. Deanne and Zoe would really appreciate your support.