Gilbert Stephens enters a new era with Radio Exe
31st March 2018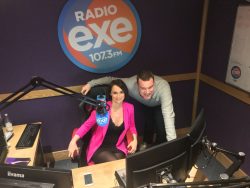 Gilbert Stephens Solicitors have teamed up with Radio Exe to sponsor the Breakfast Show with Ben Clarke from Monday 26th March.
Partner Terry Bastyan said "This is an exciting new commitment for us, radio advertising isn't something we've considered until now but it feels the right time and it's great to be able to support our local radio station"
Marketing Executive Dana Mulligan commented "I'm delighted that Gilbert Stephens have chosen to work together with Radio Exe, I'm particularly thrilled they've chosen to sponsor Ben's show,  I'm sure many of us have listened to Ben over the years!"
Radio Exe is the music and news station for Exeter, Mid and East Devon and with 6 offices in the region it's the perfect partnership for Gilbert Stephens.
Dana continued "Radio Exe are a locally owned station run by people who love Devon; Gilbert Stephens are local solicitors who support and get involved with the community at each of their branches, it's the perfect match".
Tune in to Ben Clarke's Breakfast Show on 107.3FM Mondays to Fridays from 6-10am.