Exeter Dementia Action Alliance 2019 Calendar
13th November 2018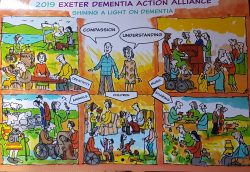 We were excited to receive a delivery of the 2019 Exeter Dementia Action Alliance (EDAA) calendar last month which will be taking pride of place amongst our offices next year. The calendar is a collaboration between Gina Awad of the EDAA and the award-winning Private Eye cartoonist Tony Husband and highlights the need for people living with dementia, and their carers to receive understanding, compassion and support to enable them to live well and to shine a light on dementia.
We are proud members of the EDAA and jumped at the chance to sponsor one of the months within the calendar. In the month of October, you will find an image raising awareness of the need to plan ahead, for peace of mind; after all talking about a loved one's possible gradual loss of memory and future care is not something that's easy to face.
At Gilbert Stephens we can help you with these difficult discussions, help ensure desired future choices are recorded and will be put in place and followed when the time comes. We will listen and work with you and your family to ensure the outcome for your loved one is just as they want. We want to ensure they can feel secure in the knowledge they have been heard and their future is as they would choose it to be, even if their ability to make that decision passes.
Huge thanks to Gina and Tony for making this very special calendar happen – we look forward to spotting it throughout Exeter in 2019!
To find out where to purchase a calendar contact Gina Awad   Website: https://exeterdementia.org.uk/contact-us/
#shiningalightondementia #EDAA  #Exeter #DementiaFriendlyExeter