95% mortgage scheme launched
9th July 2021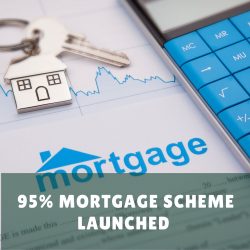 A government-backed mortgage scheme launched in April will help first time buyers or current homeowners secure a mortgage with just a 5% deposit.
First announced at the Budget, the scheme will help first time buyers or current homeowners secure a mortgage with just a 5% deposit to buy a house of up to £600,000 – providing an affordable route to home ownership for aspiring home-owners.
The government will offer lenders the guarantee they need to provide mortgages that cover the other 95%, subject to the usual affordability checks.
The scheme is now available from lenders on high streets across the country, with Lloyds, Santander, Barclays, HSBC and NatWest launching mortgages under the scheme and Virgin Money following.
Since 2010, more than 687,000 households have been helped into home ownership through government schemes, but when asked, 69% of private renters and 63% of those living at home who had looked into a mortgage said they cannot find many mortgages with a low deposit. The new 95% mortgage scheme will now make it even more accessible to own a home.
The new mortgage guarantee scheme will give providers the confidence to lend and help families and young people get on the property ladder without the prohibitive burden of a large deposit.
The scheme is one of a range of flexible home ownership options available. These include Help to Buy, Shared Ownership and the First Homes Scheme. Figures show that the number of mortgage approvals for house purchases in January 2021 was 99,000 – a 40% increase on January 2020.
The intervention comes as new figures published by the government show a greatly increased desire for home ownership and a sharp reduction in 95% mortgage availability over the past year.
The figures show that more than two-thirds of private renters (68%) and those living at home (72%) want to buy, with the majority saying the pandemic has made them more aware of the importance and benefits of home ownership.
The survey also found that 76% of private renters and 70% of those living at home have started saving for a deposit or put more money into their savings during the pandemic.
You can read more about the scheme here