Our Experience
We work hard at retaining the highest standards of client care and practice management and are proud to share our credentials with you.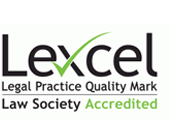 We have held Lexcel accreditation for over 10 years and our 2016 award was a seamless transition from version 5 to version 6. Lexcel is developed specifically for the legal profession and is an optional, recognised accreditation scheme for law firms and in-house legal departments providing assurance that a practice meets the high client care and business management standards.
To gain and retain Lexcel accreditation, a practice must undergo a rigorous initial then ongoing annual application and assessment process. This includes conducting background checks and an on-site visit from an independent Lexcel assessor.
We are members of the Law Society Conveyancing Quality Scheme (CQS) and accreditation provides greater assurance for our clients, both individuals and financial institutions, that they have selected solicitors of the highest quality and competence. This means that following independent assessment it has been confirmed that our clients can be confident that their transaction will be professionally, competently and faultlessly completed.
The scheme requires practices to provide compulsory training, meet self reporting standards and be subject to random audits and annual reviews in order to maintain CQS status. It is open only to members of the Law Society and to those who meet the demanding standards the scheme will set and has the support of the Council of Mortgage Lenders, the Building Societies Association, and the Association of British Insurers.
We are members of the Family Law Advanced Accreditation Scheme which covers specialist areas of family law work. Members need to show, to the satisfaction of the Law Society, that they have and will maintain a high level of knowledge, skills, experience and practice in selected, specialist areas of family law and have demonstrated those skills in two or more areas, comprising:
Children law private
Child abduction and wardship
Cohabitation
Violence in the home
Advice in and conduct of ancillary relief
International issues
Complex asset cases
Our members of the Law Society's Family Law