Welcome Jonathan Cave
18th February 2019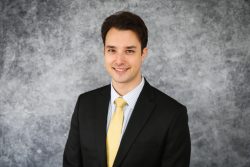 January 2019 was an industrious month at Gilbert Stephens Solicitors and we are pleased to present to you the second of our features on the newest members of our team. We are a dynamic firm and we recruit carefully to ensure that we have a strong and dedicated staff in order to meet the demands and exceed the expectations of our clients.
We are very happy to have Jonathan Cave working from our Exeter office as a solicitor in our Private Client department. Jonathan comes from Newbury in West Berkshire and trained to be a solicitor in Birmingham. He made the move to Devon for the increased quality of life, and because he liked the prospect of "living in a great place close to the coast".
It is always busy settling into a new job, but Jonathan has taken the time to answer some questions to help us get to know our new starter a little better.
What made you choose to progress your career with Gilbert Stephens Solicitors?
The firm's personality appeared to mirror my own, a local firm working in the community. I came from a corporate style firm which was leaving the local community behind and I was unsatisfied in that environment. I am a people person, and Gilbert Stephens is a people-centric firm.
What drew you to this career path? Can you tell us about the journey? Originally I did a Business Management degree at Manchester University. I did law modules in that degree, which I found challenging but I really enjoyed. I therefore undertook the Graduate Diploma of Law followed by the Legal Practice Course to become a solicitor. I trained in Birmingham and then qualified in Exeter before moving to Gilbert Stephens.
Why did you choose Private Client work?
This area of law allows me to help individual clients with their personal affairs. I am passionate about advising people regarding matters that are important to them. I enjoy being able to assist with often difficult issues such as probate administration, drafting Wills or LPAs. If I had to choose another area it might be personal injury law, again because I wish to be able to help individuals with their legal issues.
Can you tell us more about what you do day-to-day?
As a Private Client solicitor I deal with the administration of estates when people pass away and assist people with life planning such as Wills, Powers of Attorney and Tax planning. I also advise on Trust creation. All of these aspects help individuals navigate the law to put their affairs in order in the best way for their personal wishes and circumstances.
Are there aspect of your work that are particularly satisfying or challenging?
Helping to reassure clients that we can deal with the difficult aspects of their personal legal issues is paramount, and doing this well is very satisfying.
Managing clients' expectations needs to be done in a very professional manner, as we deal with a varied client base and often people come to us not knowing about what they can achieve. I do my best to accurately lay out what their outcomes might be.
Keeping up with changes to the law is challenging sometimes, especially those that relate to Tax. You have to work hard to find the extra time to remain up to date in order to give the best advice.
Do you have any advice for others who are considering a career in law?
I would suggest gaining as much work experience as possible before committing to study law. Practicing law is very different to studying it, and it is very important to know precisely why you wish to get into law. It is a demanding occupation and some lawyers burn out or change career because the job didn't live up to their original expectations. Work experience will give you a better idea of what the job involves, so you can go into it with your eyes open.
What are you passionate about outside of work?
My family and friends, amateur dramatics (I am a member of the Exeter Little Theatre Company and Exeter Musical Society) and keeping fit. I enjoy cycling, running, swimming and using the gym.
What are your ambitions for your future in Exeter?
My professional ambition is to be a leading member of a law firm, whether that be a partner or Legal director. On a more personal note, I wish to pursue a simple, happy life of contentment, with time to spare for my other interests.
Gilbert Stephens would like to wish Jonathan the best of luck in his new role. We are delighted to have Jonathan on board and we look forward to seeing him achieve his ambitions, as well as getting around to bringing in the house plant and photo that he's planning for his desk.
If you would like to know more about careers at Gilbert Stephens, take a look at the Careers page or call our HR Manager, Sarah Judd on 01392 424242.