Welcome Conall Ryan
14th March 2019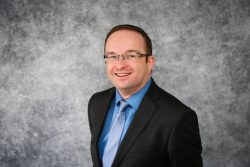 Conall Ryan is an experienced Fellow of the Chartered Institute of Legal Executives specialising in Private Client matters. In 2017 he was independently rated by Three Best Rated as one of the top 3 Estate Planning legal professionals in Exeter.
Conall joined Gilbert Stephens Solicitors in January and deals with Wills, Estate Administration, Lasting Powers of Attorney, Trusts, Inheritance Tax planning and Court of Protection work.
We asked Conall about his background, why it's not essential to have a university degree to find your path into law, and how he came to be a Chartered Legal Executive at Gilbert Stephens.
Can you tell us about where you come from and why you chose to work in Crediton?
Born and raised in Cornwall, after leaving school I worked full time for a local family-run Brewery, at the same time as undertaking a Modern Apprenticeship in Accountancy, completing the AAT qualification.
In 2004, despite having no legal background or qualifications, I managed to obtain a position with a Cornish law firm as a Trainee Legal Executive. My evenings and weekends were then taken up by studying for the Institute of Legal Executives (now The Chartered Institute of Legal Executives) qualification, so I could gain my Fellowship.
After leaving this law firm I moved over the border to Exeter and for the next ten years worked for one of the big five banks in their Private Banking department. During my time there I obtained full membership of the Society of Trusts and Estates Practitioners (STEP).
Did you always know you would work in this area of law?
Having started my career in accountancy I knew that if I went into law, I would like to utilise the knowledge I already had with regard to tax and dealing with figures. It was really by chance that a trainee position came up in a law firm, in the Private Client department. At the time I did not have much knowledge of the law in this area or even that I could become a lawyer as I hadn't been to university.
What do you like about working at Gilbert Stephens Solicitors?
I like that Gilbert Stephens always focus on putting the clients at the heart of the matter.
It is brilliant to have a team of support staff who are very knowledgeable and proactive, this helps to make things as smooth as possible for our clients.
The Gilbert Stephens team have made me feel very welcome. They are very supportive of their staff, and I am happy to be a part of the team.
What do you think are the most important qualities for a Chartered Legal Executive to have?
In my area of work not only do you need the legal technical knowledge, you also have to have the soft skills of being able to deal with people in a whole range of situations.
You will spend time with people who are grieving, who have just been diagnosed with an illness or who find the whole process of dealing with the legal profession daunting. It is an important part of our role to try to put people at ease when we meet with them.
On the other side you need the ability to deal with various organisations to get matters concluded, such as liaising with HM Revenue and Customs. It is helpful to have the ability to remain calm – at times it can be very frustrating.
Can you tell us more about what you do day-to-day?
My day can be a combination of meeting people who have very straightforward situations and just want to update their Will or conclude a Lasting Power of Attorney, to people with more complex situations. These can take the form of estranged family members, people with early onset dementia or people wanting to discuss the Inheritance Tax implications on their estate.
This role can also involve registering a death, arranging a funeral or going through paperwork at a deceased person's property to try to establish the extent of their estate.
The essence of my day to day work is to try to put clients at ease and guide them through what can be a very difficult and emotional situation. No two days are ever the same.
Are there aspects of your work that are particularly satisfying or challenging?
I enjoy communicating with clients to put them at ease and come to some sort of solution to their issue. It is always satisfying when clients say thank you and recommend you to their family or friends.
It can be challenging when clients feel that the process should not take as long as it does, for example for the administration of an estate.
Do you have any advice for others who are considering a career in law?
First of all you need to think about what area of law you would like to get into as there are a wide variety of specialisms.
Also think about the route you want to take to qualify. For example, I studied on the job. Working in a firm that has a range of disciplines can really help as you can ask practicing fee earners first-hand about the things you are studying.
Whichever route you take it will be quite a long one, so be prepared for lots of studying. However, in the end it will be worth it!
What are your ambitions for your future?
Professionally, I would like to become a partner one day, maybe also a head of department. When I started my career, Chartered Legal Executives didn't typically become partners in law firms, but this is more achievable now.
Gilbert Stephens are very pleased to have Conall working with us and wish him all the best as he continues to settle into his role.
If you have any questions regarding Wills, Estate Administration, Lasting Powers of Attorney, Trusts or other Private Client matters, get in touch with Conall Ryan on 01363 775566 or email .