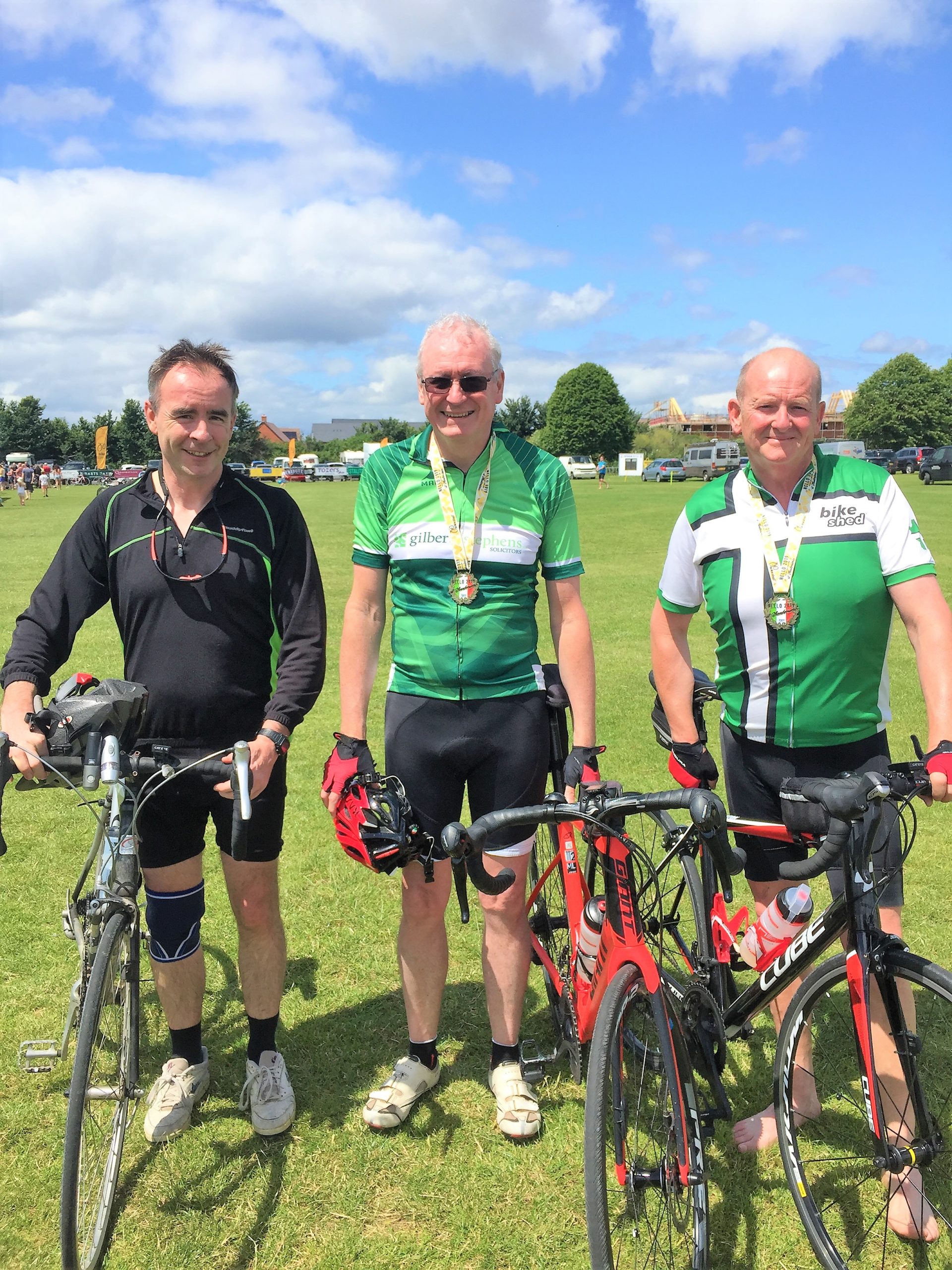 The Nello 2019 – Il Ventesimo
1st July 2019
Gilbert Stephens Solicitors was delighted to put forward a group of cyclists in the 20th Nello Century Cycle Challenge, which took place on Sunday 30th June. In honour of its Italian connections, the 2019 event was dubbed 'Il Ventesimo' (the Twentieth).
It was great to have members of the firm come and support the Nello cyclists, including Marcus Quick, Financial Services Manager and Dana Mulligan, Marketing Manager at Gilbert Stephens Solicitors.
Sue-Ellen Lee and Jonathan Cave took part in the gruelling, steep-hilled challenge along with Don Middlemost (who was instrumental in arranging team training for the event), Alan Smith, Nigel McKay and Sylvain Peltier. Unfortunately, Jonathan fell off his bike on a tricky patch of terrain and scraped his elbow, but battled bravely on to the finish line. Don came in at an impressive 4 hours 1 minute and Alan also arrived in excellent time, making it home in time for Sunday lunch.
Sue-Ellen expressed her gratitude towards Gilbert Stephens for letting her join the team, saying "I really enjoyed the Nello, it was very well organised and lots of people on the course were encouraging us. Some of the hills were challenging, but we managed to get up all of them!"
The Nello is now the biggest fundraising event in FORCE Cancer Charity's calendar, raising both awareness and funds to offer the best possible support and treatment for people who have been affected by cancer face to face and close to home. It is such a significant event not only for the charity, but for many participants who have often ridden numerous challenges for their own personal and inspirational reasons. Members of the Gilbert Stephens team were riding this year in memory of Liz Govier, one of our solicitors, who sadly passed away last year after a brave battle with cancer.
Our 6 team members, sporting our green jerseys, have been training hard for almost 2 months in preparation for this gruelling but non-competitive charity event. There is a choice of two different distance routes and some members of the team cycled the 55 mile route, while the others challenged themselves by taking on the full 100 miles.
The Nello started and finished at Topsham Rugby Ground with the route taking 1,500 participants 'over the roof of Exmoor'. With incredible views of our local landscape and scenic country roads, some riders took a break in Nomansland to recharge before heading back out to complete this great accomplishment.
Since the first Nello Century Cycle Challenge in 2000, originally organised by Marc and Kim Millon in memory of Italian restaurateur Nello Ghezzo, the ride has raised more than £900,000 for FORCE. It started modestly attracting 90 cyclists in that first year. This year, organisers have set themselves a target of raising a record £100,000 from the ride, taking the overall total past the magic £1million mark.
In addition to the ride itself, Gilbert Stephens Solicitors held a 'Dress Down Day' on Friday 28th June for those who weren't involved in the challenge. Staff members came in to work dressed in casual clothing for a donation of £2 for FORCE Cancer Charity. In total, Gilbert Stephens Solicitors managed to raise £500!
The main image for this article features Austin Crow, who at age 14, was the youngest competitor at the Nello. In addition to Austin, over 1,500 cyclists took part in the race and it was great to see this support for FORCE Cancer charity; every single penny raised goes directly to the charity. It was touching to see so many volunteers give up their Sunday to help out at the event, we are pleased that they were rewarded with such a beautiful June day!