Radio Exe's Studio Reception
1st February 2019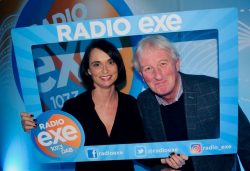 We have been proud sponsors of Radio Exe's Breakfast Show with Ben Clark since March 2018. We thoroughly enjoyed listening to his show for many years prior to this, and continue to tune in for his mix of lively conversation, eclectic music and local news.
On Wednesday 30th January 2019 our Marketing Manager, Dana Mulligan was pleased to be invited to attend Radio Exe's Studio Reception. Dana went on a tour of their brand new, purpose-built studios at Matford Business Park, the base from which they broadcast across Exeter, Mid and East Devon. You can tune in to Radio Exe on 107.3 FM and on DAB digital radio. Ben Clark's Breakfast Show airs Monday to Friday from 6am – 10am.
Dana was really impressed by the new studios, describing them as "real state-of-the-art facilities with professional equipment and a smart studio environment. Anyone in and around Exeter needing the highest standard of production work are lucky to have these facilities available to them."
The station launched on Tuesday 10th January 2012, when breakfast presenter Ben Clark played their first track, Billy Joel's River of Dreams. Seven years on, and shortly after Ben Clark celebrated his 7th Anniversary at the station, they have moved from having just one studio to three, where they can now offer team building, media training and podcast production.
These are very exciting times indeed for Radio Exe and we are thrilled to be supporting this local business as it continues to grow.