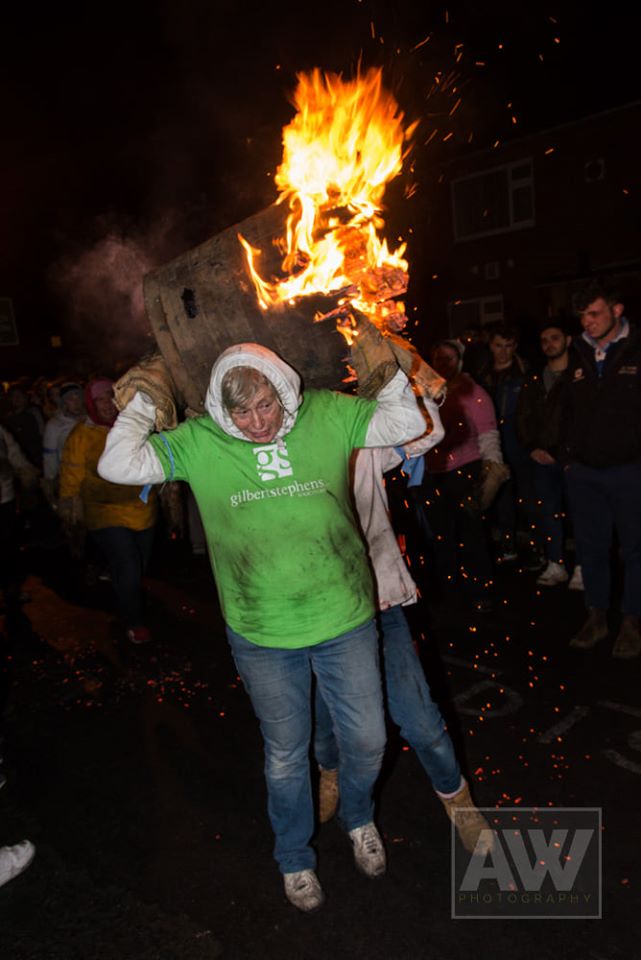 Ottery St Mary's Tar Barrels night was a real scorcher!
8th November 2019
There was an absolutely exhilarating atmosphere at the Ottery St Mary Tar Barrels on Tuesday 5th November. Gilbert Stephens Solicitors were very proud of Deanne Cummings from our Sidmouth Office as she, and her daughter Zoe, bravely lifted the traditional blazing tar barrels on to their shoulders and ran through the crowded streets.
It is difficult to describe the full experience of being there. The lit tar barrels are carried at surprising speed through the very crowded dimly lit streets and alleys, with the intense heat from the dancing flames licking at the excited crowds of spectators, that sometimes got very close to the barrels indeed. It's impossible to capture the feeling of the heat in your face, the smoke in your lungs and the push of the crowds as they move out of the way of the barrel rollers.
Although it may appear uncontrolled, there is actually a tremendous comradery between the barrel rollers and along with the impeccable planning from the organisers they ensure that everyone is kept safe and thoroughly entertained throughout the evening.
Gilbert Stephens sponsored the brochure this year and proceeds from their sale will go towards organising next year's event. It's a huge spectacle and a wonderful tradition which we hope will continue for many years to come.
Deanne commented "a dry night thank goodness, great to meet up again with the girls and roll the barrels for another year. We gathered around the lit barrels, what a wonderful smell, they were heavy and burnt well. All had a brilliant night and thoroughly enjoyed it. Long may they continue, keeping us Ottery born and bred together!".
Photography by Alex Walton Photography.