Lasting Powers of Attorney
19th December 2018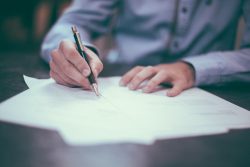 You've probably heard about Lasting Power of Attorneys (LPA) but put it aside as something to consider when you are older. You may be surprised to learn it is actually good practice to make an LPA at the same time as you make your Will.
Your Will ensures your affairs are all in good order and your wishes will be met in the event of your death – but what if you had an accident tomorrow and were left incapable of making decisions about your own finances and wellbeing? You may simply decide that you don't want to deal with certain affairs when you are older and would prefer to appoint someone else.
What if a family member is diagnosed with a condition like Alzheimer's, but puts off the making of an LPA because, for now, they have full mental capacity? Once that mental capacity has waned we can no longer legally be sure of that person's wishes.
It is therefore vitally important for the security of your finances to ensure you have an LPA in place, just in case. Of course, we hope that the need for one will never arise, and for most of us thankfully it won't, but for those who find themselves in that unenviable position at least they, and those around them, can have peace of mind that their wishes are being carried out.
How does a Lasting Power of Attorney work?
There are two types that we recommend people sign: a Lasting Power of Attorney for Property and Financial Affairs; and a Lasting Power of Attorney for Health and Welfare. We recommend having both because the people most suited to running your financial affairs may not be the same as those most suitable for taking care of your health and welfare, having to make medical decisions on your behalf.
If you already have an LPA in place, or the old form of Enduring Power of Attorney signed prior to September 2007, it is vital that you ensure it remains up to date. The person who you wish to run your financial affairs may now be different, for example if there has been a relationship break up, or perhaps a child reached adulthood and you consider them to be more suitable. For whatever reason, ensure you keep any LPA under review.
What happens if I can no longer manage my financial affairs but do not have an LPA?
If you became mentally incapacitated and unable to manage your affairs, then someone would need to apply to the Court of Protection for permission to take on your financial affairs on your behalf.
The process of being appointed someone's "Deputy" by the Court of Protection can be lengthy and expensive, it may also be overwhelming and emotional for those involved. It will often take 6 months or more, and the court fees alone can be several hundred pounds. Once appointed, the Deputy may still have less control of your finances than if you had appointed an attorney. Lots of additional work is required too, with the Deputy having to report annually to the Court of Protection and pay fees, which come out of your supervision funds.
What happens if I am unable to make my own medical decisions but do not have an LPA?
As with the Property and Financial Affairs LPA, if you do not have a Health and Welfare LPA then no one will be able to make decisions about your social and medical care unless a Deputy is appointed by the Court of Protection. Therefore, doctors and social workers have as much say in what care or medical treatment you receive as your spouse, partner or other close relatives.
If you would like to find out more about LPAs, have one drawn up or update an existing one, get in touch with us at Gilbert Stephens.
We have offices in Exeter, Budleigh Salterton, Crediton, Okehampton, Ottery St Mary and Sidmouth. Call us now on 01395 512443.