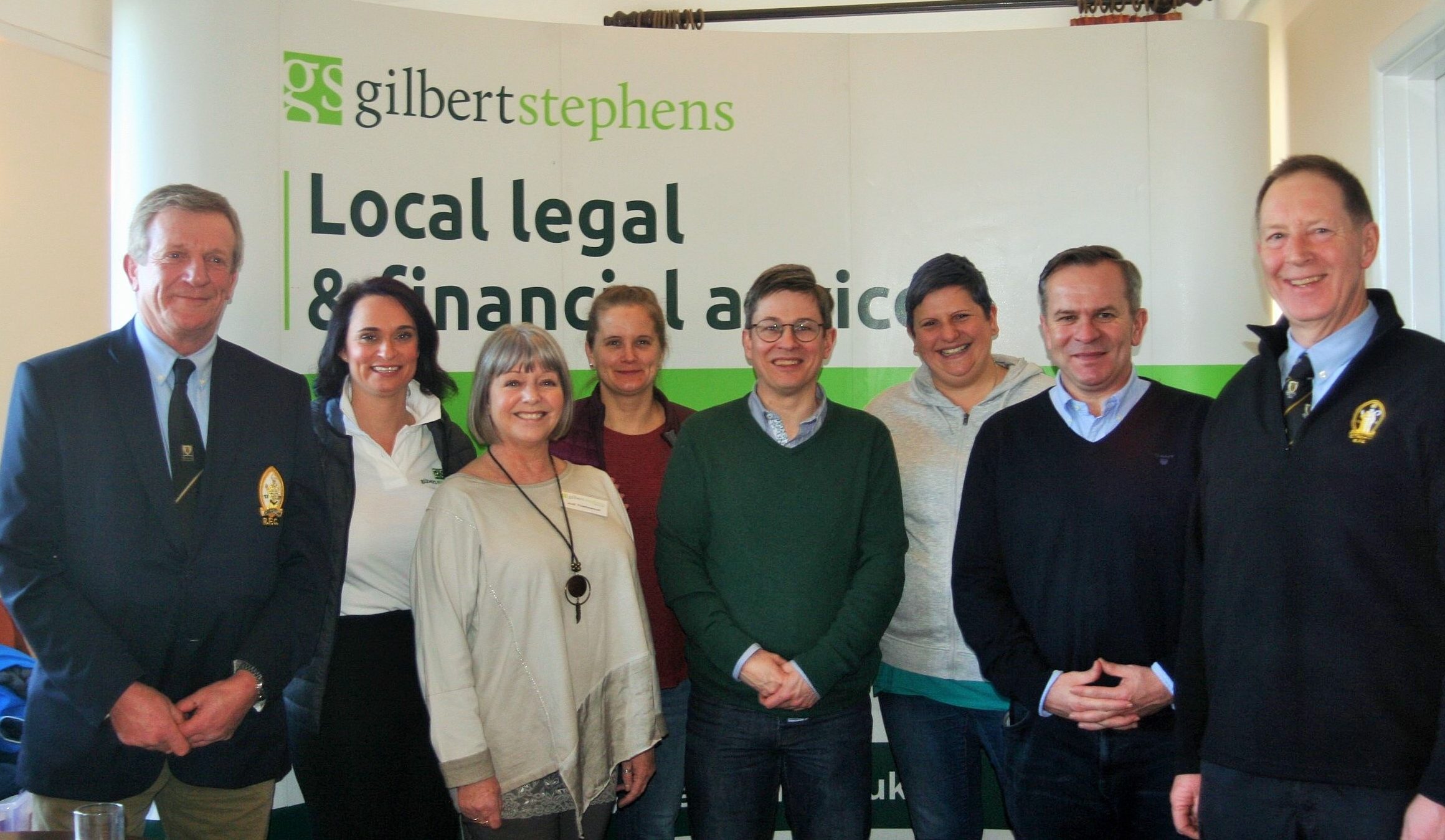 A close, action packed game for Crediton RFC at the Players Reunion Match
5th March 2020
On Saturday 29th February, Gilbert Stephens Solicitors were delighted to host guests from a variety of local businesses at the Crediton RFC Players Reunion Match. Local businesses from across Crediton, Exeter, Tiverton and surrounding areas arrived at the rugby club for a pre-match buffet prior to seeing Crediton RFC 1st XV take on rivals from Weston-super-Mare, Weston Hornets.
Gilbert Stephens have been steadfast supporters of the Crediton RFC for several years. Sponsoring this year's Players Reunion Match provided the perfect opportunity to celebrate the history of the club, with previous players attending and supporting on the day.
Wyatt Loake, Financial Services Manager; Martin Justice, Solicitor; Sue-Ellen Lee, Legal Secretary; Laura Newbury-Butcher, Legal Secretary; Judi Thistlewood, Receptionist; Dana Mulligan, Marketing Manager; and Charley Winter, Marketing Assistant, represented Gilbert Stephens on the day and were proud to cheer on Crediton players from the side lines.
Despite the strong winds and intermittent rain, both teams did their best to battle against the elements in a fierce and fast-paced game. The teams were a close match, with Weston Hornets taking a slight lead of 14 v 13 by half time. By the end of the game, Weston Hornets ultimately secured their victory and won 22 v 18.
Gilbert Stephens were proud to award Josh Woodland Man of the Match. The Devon under 20s player in his first year of senior rugby was presented with a crate of beer and cider, courtesy of Gilbert Stephens from local brewers Hanlons Brewery and Sandford Orchards.
Eddie Trick, President of Crediton RFC, celebrates the Players Reunion as "a great day with a packed-out clubhouse and over 100 ex-players". Eddie says "to have such a prestigious sponsor as Gilbert Stephens seemed only right. A losing bonus point against league leaders Hornets was the minimum that Crediton deserved from a great performance in testing conditions.
Gilbert Stephens are long standing sponsors of Crediton RFC and it was marvellous to see so many representatives and clients enjoying the day. The support from companies such as Gilbert Stephens is greatly appreciated by everyone at Crediton RFC and we look forward to welcoming them again next season".
Gilbert Stephens was proud to be the match day sponsor for this special event in the club's calendar and was honoured to share the day with guests, club members and players.
To find out more about Crediton RFC and to follow their progress, take a look at their Facebook page or website.