Classics Galore!
24th January 2018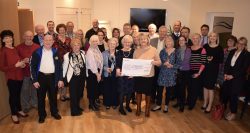 We were delighted to attend a presentation at the Royal Devon & Exeter Hospital on 18th January to celebrate the incredible sum of £20,600 which was raised for FORCE Cancer Charity following the Classics Galore! concert in November – it's certainly something to celebrate!
The performance, which took place in the Great Hall at Exeter University, was the sixth concert organised to raise funds for FORCE. The evening is full of popular classical music with much of it being something people will know and/or recognise.
The money raised from this concert has been ring-fenced for a fund that has enabled FORCE Cancer Charity to spend £93,000 on a new surgical device for the Royal Devon and Exeter Hospital to enhance cancer treatment for women across Devon.
An incredible £90,000 has now been raised for FORCE Cancer Charity by these concerts and we are delighted to have been able to continue to sponsor such a worthwhile and fun event – we are already looking forward to the next one.
"The Classics Galore! Concerts are the brainchild of Dick Passmore, who has lived and worked in Exeter all of his life.  Dick has been a cancer patient, so is well aware of the excellent work carried out by members of the FORCE Charity team in their efforts to support anyone in the Exeter area affected by cancer, be it patients or carers.
Dick's enjoyment of music convinced him that organising a concert was one small way in which he could give back a little something for the excellent treatment and support he has received during his illness. The first concert in 2007 was a huge success, demanding further similar concerts in 2009 and 2011. Because of the enormous amount of work involved in organising the event themselves, Dick and his wife, Posy, then decided to pass over the organisation to a committee."
Read more here: http://www.classicsgalore.co.uk/history/
Photo courtesy of Helen Williams-Pugh