Children's Christmas art brightens up Budleigh branch's window
4th December 2017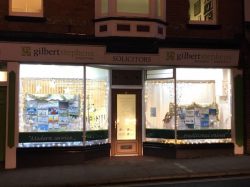 Children at Budleigh's St Peter's Primary School have helped Gilbert Stephens to create a festive Christmas display for their shopfront.
Year Six pupils at the school drew or painted pictures of Christmas scenes which are now on show in the Budleigh office's window, along with twinkling Christmas stars and miniature reindeer.
Gilbert Stephens partner Patrick Langrishe and colleague Bianca Gibbons visited the school to collect the artwork and meet the children on Tuesday November 28th, and the festive gallery was created in the office window the following day.
Patrick Langrishe said, "A big thank-you to the children of Year Six for making our Christmas window look so special."