Cheryl Bolt – Trainee Solicitor Blog
19th March 2018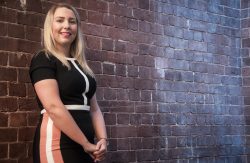 As a trainee solicitor I am required by the Solicitors Regulatory Authority to undertake a period of recognised training (more commonly known as the Training Contract). I am very fortunate that Gilbert Stephens offered me a training contact as these are traditionally very competitive with not many places on offer. I had been with Gilbert Stephens for 3 years before beginning my training and as the firm hadn't had a trainee in over 4 years they certainly put their faith in my abilities by agreeing to provide a training contract.
The period of training usually consists of training in four distinct areas of law, each known as a different "seat" of the training contract. One of those areas must be contentious, meaning relating to an area of law which is contested.
My first was my contentious seat in our Litigation Department. Litigation is a term used to describe proceedings initiated between two opposing parties to either enforce or defend a legal right. Each of our litigation fee earners have expert knowledge of specialist areas of civil disputes.
I was very fortunate to be able to spend my time in the Litigation Department shadowing each of our litigation fee earners. I gained valuable experience in a wide range of specialist civil matters such as employment law, personal injury and debt recovery to name a few.
Some of the core areas of law, such as contract law and tort, were familiar to me from my law studies and it was very interesting to see how these core areas of law are applied in practice. The area that interested me most whilst in the Litigation Department was employment law.  Employment law is a key area of law that affects and ultimately protects anyone who is employed and yet from my experience it seems that many people (both employer and employee) are not in the know about these rights.
The most challenging aspect of my time in the litigation department was the court deadlines that we have to adhere to. Whilst many civil disputes become resolved and do not end up in court there are some which do not and ultimately end up going through the court system. When going through the courts, the judges set very strict timescales and deadlines that all parties and their respective solicitors must adhere to, which is challenging to meet whilst also undertaking various other work.
Whilst television programmes like Suits focuses on the American legal profession, these shows tend to glamorise the idea of going to court and it certainly does not happen like that in practice. The lead up to Court is very time consuming, hours of preparation are needed to prepare the court bundles. Court days can be very long, with little time for breaks, and can go on past normal working hours – although luckily I only had to experience this once whilst in the litigation department!
I certainly enjoyed the variety of challenging work the litigation department provided me. From gaining experience in critically drafting (some rather long) letters of claim to researching guidelines on the compensation levels for injuries in order to quantify in money's worth the damage caused it is safe to say that not one day was the same in litigation.